---
NATIONAL MEDAL OF TECHNOLOGY WINNER PETER C. SCHULTZ DISCUSSES SUCCESS WITH REVOLUTIONARY FONAR SCANNER AT EAST BRUNSWICK OPEN UPRIGHT MRI
MELVILLE, NEW YORK, May 23, 2006 - FONAR Corporation (NASDAQ-FONR), The Inventor of MR Scanning™, announced today the success being achieved by East Brunswick Open Upright MRI. One of the center's founders and partners is Peter C. Schultz, Ph.D., best known for being the co-inventor of the optical fiber. The center commenced operation in January 2006 and since then its patient volume has risen rapidly.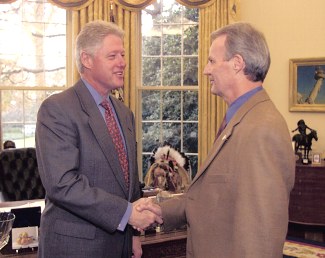 Dr. Schultz reflected on the business success achieved as a result of his relationship with FONAR. Dr. Schultz commented: "In 1993, I was inducted into the National Inventors Hall of Fame for the invention of fiber optic technology. Dr. Raymond Damadian, the president and founder of FONAR, and I met at the ceremony. He had been inducted into the National Inventor's Hall of Fame in 1989 for the invention of the MRI and his 'Cancer Detection' patent. Another defining moment in our careers occurred when we both received the National Medal of Technology for technological achievements. (Dr. Damadian received his National Medal of Technology in 1988.) We share a lot in common, particularly the vision and dedication for our respective sciences."
Dr. Schultz continued, "Over the years, Dr. Damadian kept me abreast of the developments at FONAR. The FONAR Upright™ MRI intrigued me and I saw the opportunity to be on the ground floor of this new and exciting medical technology. Moreover, my instinct and research on the practical application of MRI technology was confirmed by two of my partners in the East Brunswick practice who had previously run other scanning centers. We agreed that we would be at a significant competitive advantage in terms of achieving both business and patient success by purchasing FONAR's Upright™ MRI."
"Our group selected the site for the installation of our FONAR Upright™ MRI in the busy medical community of East Brunswick, New Jersey, and we became operational this past January. Our patient throughput rate measured by the number of scans per month has met and exceeded our expectations because the local medical community has been very receptive toward this new technology. Currently, we are at the breakeven level," said Dr. Schultz.
"The capabilities of the FONAR Upright™ MRI are enhanced when scans are transferred digitally over fiber optic cables from our center to our referring physicians for their review," continued Dr. Schultz. "They are also sent to FONAR's headquarters where they are monitored in real-time for scanner performance. It is gratifying to know that my invention of fiber optics is contributing toward the advancement of medical imaging technology."
"Another connection I have with the MRI industry is that I, too, have had the need for several MRI scans over the last few years. These were taken in 'open' machines where the top of the magnet was just inches from my face, and in the high-field 'tube' machines which are extraordinarily confining. Since then I have been in the very patient-friendly FONAR Upright™ MRI. To me it's a miracle that such a wonderful machine can be so comfortable and at the same time be so medically effective. Patient comfort is just one of the major benefits of FONAR's Upright™ MRI," said Dr. Schultz.
"In the short time that East Brunswick Open Upright MRI has been operational, we have seen numerous cases where a patient's problem is missed when scanned laying down in a recumbent scanner. We can unequivocally proclaim that using our FONAR Upright™ MRI allows us to find the problems experienced by patients that can't be seen in other types of MRIs. Furthermore, our referring physicians are thrilled that they have access to such a patient-friendly device that also can produce images where pathology is clearly evident. This has been why our success rate has come so quickly," concluded Dr. Schultz.
Raymond V. Damadian, M.D. president and founder of FONAR, is pleased with the success achieved by Peter Schultz and his partners at East Brunswick Open Upright MRI. "It was a delight to work with Peter and the other owners of East Brunswick Open Upright MRI," said Dr. Damadian. "And it comes as no surprise that their business has progressed so quickly. Peter is an extraordinary scientist and has gone to great lengths to determine that FONAR's technology is the most advanced in the MRI industry. He and his partners understand the business and this has brought great benefit to patients and the medical community of central New Jersey."
East Brunswick Open Upright MRI is located at 620 Cranbury Road in East Brunswick, New Jersey. Their telephone number is (732) 698-1717. For a streaming video presentation of the center's January Grand Opening featuring Dr.Schultz and Dr. Damadian, please go to www.mctv77.org, select: 'Video Library 1', and then select the picture of 'The Stand-Up MRI'.
About FONAR
FONAR® was incorporated in 1978, making it the first, oldest and most experienced MRI manufacturer in the
industry. FONAR introduced the world's first commercial MRI in 1980, and went public in 1981. Since its inception, FONAR has installed hundreds of MRI scanners worldwide. Their stellar product line includes the FONAR UPRIGHT™ MRI (also known as the Stand-Up™ MRI), the only whole-body MRI that performs Position™ imaging (pMRI) and scans patients in numerous weight-bearing positions, i.e. standing, sitting, in flexion and extension, as well as the conventional lie-down position. The FONAR UPRIGHT™ MRI often sees the patient's problem that other scanners cannot because they are lie-down only. With nearly one half million patients scanned, the patient-friendly FONAR UPRIGHT™ MRI has a near zero claustrophobic rejection rate by patients. A radiologist said, "FONAR UPRIGHT™ MRI - No More Claustrophobia - The Tunnel Is Gone." As another FONAR customer states, "If the patient is claustrophobic in this scanner, they'll be claustrophobic in my parking lot." Approximately 85% of patients are scanned sitting while they watch a 42" flat screen TV. FONAR's latest MRI scanner is the FONAR 360, a room-size recumbent scanner that optimizes openness while facilitating physician access to the patient. FONAR is headquartered on Long Island, New York, and has approximately 400 employees.
#
The Inventor of MR Scanning™, True Flow™ MRI, Stand-Up™ MRI, FONAR UPRIGHT™ MRI, Position™ MRI, PMRI™ and The Proof is in the Picture™ are trademarks of FONAR® Corporation.
This release may include forward-looking statements from the company that may or may not materialize. Additional information on factors that could potentially affect the company's financial results may be found in the company's filings with the Securities and Exchange Commission.
###