NEW FONAR STAND-UP MRI IN MADRID, SPAIN PERFORMS HISTORIC MRI "FIRST" BY SCANNING, WITHOUT ANESTHESIA, A 2-YEAR OLD SITTING ON MOTHER'S LAP
MELVILLE, NEW YORK, June 14, 2004 - FONAR Corporation (NASDAQ-FONR), The MRI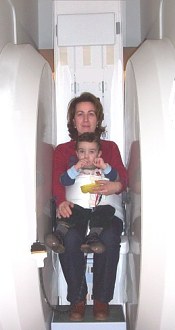 Fonar Stand-Up™ MRI scans mother and non-sedated child watching cartoons on TV
Specialist™, announced today that the Stand-Up™ MRI at Hospital de Madrid in Madrid, Spain performed in November of 2003 a historic "first" in the field of magnetic resonance imaging (MRI), by scanning an infant sitting on its mother's lap. The scan was successful and the infant's problem diagnosed. This is a remarkable event because it shows that the revolutionary Stand-Up™ MRI can possibly be used to avoid the use of anesthesia for MRI exams in a substantial percentage of children currently requiring it.
"The child was an active two-year-old," said Juan Abarca, M.D., president of Hospital de Madrid Monteprincipe. "The open architecture of the Stand-Up™ MRI made it possible for us to scan the child sitting on his mother's lap, from where he could sit still and watch cartoons on a large, 42-inch plasma TV. We wrapped the surface coil (the belt-shaped antenna that picks up the tiny radio signals that make up the MRI picture) around both the mother and the child and were able to obtain images from the lumbar region of the child." The child was diagnosed with syringomyelia, a disorder in which a cyst forms within the spinal cord. "We were very happy that we were able to make the diagnosis without having to anesthetize the child."
Raymond Damadian, M.D., president and founder of Fonar said, "Dr. Abarca performed a ground breaking MRI scan. In the present day practice of childhood MRI scanning, the great majority of children under the age of 7 must be put to sleep with anesthesia in order to eliminate any movement during scanning, thereby requiring continuous vital signs monitoring by a physician in attendance. With a child comfortably sitting on its mother's lap, transfixed by a 42-inch TV showing a popular children's program, the risks and costs of anesthesia can possibly be eliminated. While it is too early to tell what percentage of the under 7 childhood population can be scanned without anesthesia, we are expecting it to be a significant percentage. It's another unique feature for the Stand-Up™ MRI. Of course, I must add that it's a wonderful feeling for us at Fonar to be able to help children like this one."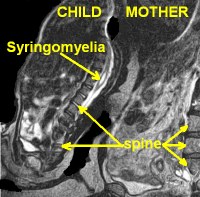 Fonar Stand-Up™ MRI scan of mother and 2-year old child with Syringomyelia, a disorder in which a cyst forms within the spinal cord. (elongated white area).
The Stand-Up™ MRI is the only MRI scanner in existence that allows patients to be scanned in the conventional recumbent position as well as in upright positions, usually the sitting position. Because of its unique ability, the Stand-Up™ MRI has successfully detected pathology that went undetected on traditional lie-down MRI scanners. Dr. Abarca said, "In the first six months of operating the Stand-Up™ MRI, we confirmed the enormous diagnostic potential of having the versatility of scanning patients in vertical and horizontal positions."
When asked to describe what the response of the patients has been to the Stand-Up™ MRI in Madrid, Dr. Abarca said, "Due to the success of the scanner, many people are calling for appointments. We scan an average of 20 patients per day, with people coming not just from Spain, but from all over Europe."