---
FONAR Wins The Wall Street Journal Technology Innovation Award For 2007
For the FONAR UPRIGHT™ Multi-Position™ MRI
MELVILLE, NEW YORK, September 26, 2007 - FONAR Corporation (NASDAQ-FONR), The Inventor of MR Scanning™, reported today that The Wall Street Journal announced in Monday's edition (9/24/2007) that out of over 800 contenders FONAR has been named one of two runners-up for The Wall Street Journal Technology Innovation Award for 2007. The award is for the FONAR UPRIGHT™ Multi-Position™ MRI.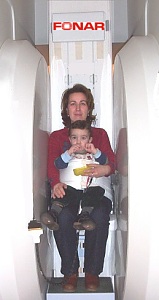 The news editor of the Journal congratulated FONAR president and founder Raymond V. Damadian, MD, in an email that stated: "We are pleased to inform you that FONAR is a runner-up in the Medical-Devices category of this year's Wall Street Journal Technology Innovation Awards. You should be very proud of this achievement. We received more than 800 entries, with only about 4% receiving an award. Needless to say, the competition was extremely intense. Full coverage of the awards appears in The Wall Street Journal's three global editions on Monday as well as for online subscribers at http://online.wsj.com/page/2_1323.html."
Dr. Damadian was also invited to an awards ceremony and dinner on October 24 in Redwood City, California, at the Sofitel San Francisco Bay Hotel.
The announcement in The Wall Street Journal for the FONAR award reads: "The UPRIGHT™ MRI, which allows improved medical imaging. A baby can be scanned sitting on the lap of the mother, eliminating sedation." (The first recorded instance of a child being scanned without sedation occurred at the Hospital de Madrid, Spain in 2003. For details visit: www.fonar.com/news/061404.htm)

The winner of the Medical Device category for 2007 was SeQual Technologies, San Diego, California, for developing portable equipment that provides concentrated oxygen. In 2006, there were nine (9) runners-up in the Medical Device category but only two in 2007, the other going to Kyphon for its X-Stop device, an implant which is used to treat spinal stenosis. It is noteworthy that tests verifying the efficacy of the X-Stop were performed with the FONAR UPRIGHT™ Multi-Position™ MRI at the University of Aberdeen by Professor Francis Smith, M.D. For the peer reviewed paper about the X-Stop and the UPRIGHT™ MRI visit: www.stenosidelcanalelombare.it/00_files/pdf/100SiddiquiMJSpinalDisordTech%5B1%5D.2006Jul_19(5)_328-333..pdf (Due to its length, this URL may need to be copied/pasted into your Internet browser's address field. Remove the extra space if one exists.)

Prior recognition of the UPRIGHT™ MRI was given on June 11, 2007, by the Intellectual Property Owners Education Foundation, which presented Dr. Damadian with the 2007 National Inventor of the Year Award for the FONAR UPRIGHT™ Multi-Position™ MRI. For details visit: www.ipoef.org

Last year FONAR was awarded the North American Medical Imaging Industry Innovation and Advancement of the Year Award. At that time, a Frost and Sullivan spokesman said, "For nearly 30 years, FONAR has led the medical imaging industry in promoting the clinical utility of MR and the multitude of applications that can be performed with this technology. In recognition of the company's longstanding role as a pioneering innovator of MR technology, Frost & Sullivan is proud to bestow upon FONAR the 2006 North American Medical Imaging Industry Innovation and Advancement of the Year Award."

The Frost and Sullivan spokesman also said, "FONAR has also established itself as the only manufacturer that offers an UPRIGHT™ Multi-Position™ MR scanner that allows for the imaging of patients in seated, standing, flexion and extension positions, which permits dynamic visualization of the fully weight-loaded spine, in contrast to the present day pictures of the non weight-loaded spine obtained in conventional static single-position recumbent-only MRIs." For details visit: www.fonar.com/news/112006.htm

Dr. Damadian said, "I am delighted that FONAR has received The Wall Street Journal's recognition for our FONAR UPRIGHT™ Multi-Position™ MRI. It is something that all of our employees and users can also be proud of, since they all participate in creating the impact that the scanner is having on medicine."
More about The Wall Street Journal Technology Innovation Awards
As part of the 2007 award nomination process, The Wall Street Journal screened more than 800 applications, narrowing the field to about 150 entries. A panel of 13 judges picked category winners and runners-up in 12 different entry categories, including computing systems, energy, environment, materials and other base technologies, media/broadcasting, medical research, medical devices, network/internet technologies, network security, semiconductors, software and transport. Each entrant was required to offer extensive details and explain why the entry merited consideration. Judging criteria included innovativeness, clarity of explanation, whether the innovation was covered by patents and if it had achieved some measure of success.
Factors the panel considered included:
- The innovation should have gone well beyond what already existed and cannot simply represent incremental improvements.
- It needed to address major challenges for which new solutions would have a wide-ranging impact in a particular industry.
- The written application needed to be supported by rigorous data rather than unsubstantiated claims of potential.
About FONAR
FONAR has the most accomplished history of any company in MRI. The company's heritage helps to document the quality of its products and distinguishes it from all other MRI companies. A timeline of its achievements follows. It includes the groundbreaking discovery of the principle that makes MRI imaging possible, the patent for the first MRI, and the sale of the world's first MRI.
1969 - Original Idea for MR Scanner (Grant Application to Health Research Council of the City of New York)*
1969 - Realizes Need for a Compelling Application to Justify Building Human Scanner. Decides on Cancer Detection
1970 - Key Discovery Makes the MRI Possible
Discovery of the marked T1 and T2 signal differences among the normal tissues and also between the normal tissue and cancer tissue. Discovery enables soft-tissue detail previously absent from medical imaging, and early cancer detection; used today to detect cancers worldwide. "NMR developed into a laboratory spectroscopic technique capable of examining the molecular structure of compounds, until Damadian's ground-breaking discovery in 1971." MRI From Picture to Proton, Cambridge University Press, 2003)
March 1971 - First Article Published (Science)
Spring 1971 - First Ever Method Proposed (Downstate Reporter)
March 1972 - First MR Patent Filed (3D Serial Voxel Scanning Method). Patent Issued 1974.
1976 - The Struggle Begins. Expert Declares, "Any further discussion of scanning the human body by MR (NMR) is visionary nonsense."
1976 - Construction of First Human MR Scanner Commences
1977 - Construction Completed; First Human Scan Achieved: Thoracic Image at T-8
1980 - FONAR Installs First Commercial MRI; Initiates MRI Industry
1997 - Patent Upheld by High Court on U. S. Patents and the U. S. Supreme Court. (1.1 Million Pages of Documentary Evidence Scrutinized and Argued; No Prior Art)
2001 - Introduction of the FONAR UPRIGHT™ Multi-Position™ MRI
2007 - National Inventor of the Year Award for the UPRIGHT™ Multi-Position™ MRI.
* For documents visit www.fonar.com/fonar_timeline.htm
More about the FONAR UPRIGHT™ Multi-Position™ MRI.
The FONAR UPRIGHT™ Multi-Position™ MRI is a dramatic advance over all other MRI's, which can only scan the patient in a recumbent-only, non-weight-bearing position. The UPRIGHT™ allows the patient to be imaged upright, with the weight of the body on the spine.
Most patients are scanned sitting, while they enjoy watching TV. Patients can also be scanned in flexion, extension, rotation, as well as lying down. This positional imaging allows surgeons and radiologists to see patients in the position of their symptoms. Studies and physician experience show that diagnosis using the FONAR UPRIGHT™ changes surgical protocols and provides better surgical outcomes in approximately 20% of the cases.
The FONAR UPRIGHT™ Multi-Position™ MRI is also unrivaled in patient comfort. It has a near zero claustrophobic rejection rate by patients. It can scan obese patients who cannot fit into a recumbent MRI, and it allows imaging of children while they sit in their mother's lap.
Over a half million patients have been scanned by the FONAR UPRIGHT™ MRI.
To date, 152 UPRIGHT™ MRIs have been sold. The superiority of the technology is achieving wider recognition every day.
Another New FONAR MRI: The FONAR 360™
FONAR has invented another breakthrough MRI, the FONAR 360™. It's a room-size recumbent scanner that optimizes openness while facilitating physician access to the patient during surgery.
FONAR is headquartered on Long Island, New York, and has approximately 400 employees.