FONAR Chairman´s Letter to Shareholders
May 2021
Dear Shareholders:
At this time last year we were a few months into one of the most formidable crises Americans have ever faced. The COVID-19 virus was killing thousands, tumbling financial markets and wreaking economic and social havoc across the country. It affected our business as well, causing an immediate decrease in FONAR Service Revenue and HMCA Management Fees. Since March of 2020, predictions as to how long the pandemic would last kept changing. For many, the fact that we are still dealing with this pandemic has been surprising.
While coping with COVID-19 was extremely challenging for us in the third and fourth quarters of fiscal 2020, we remained profitable and have since continued to steadily recover. I am grateful to report that as of December 31, 2020, FONAR posted 43 consecutive quarters of positive net income and positive income from operations. Thanks to the development and the ever-increasing availability of COVID-19 vaccines, and barring any unforeseen variants of the virus, we expect to soon be fully recovered and back on the path of increasing revenue and profits.
Fiscal Year Ended June 30,
Total FONAR Revenue
Total FONAR Net (Loss) Income
Diluted Net (Loss) Income
Per Common Share
2010
$31,815,555
($3,012,842)
($0.61)
2011
$33,136,395
$3,309,019
$0.55
2012
$39,444,419
$6,875,073
$0.91
2013
$49,142,814
$10,256,362
$1.34
2014
$68,505,477
$13,396,769
$1.58
2015
$69,050,996
$15,430,383
$1.95
2016
$73,368,210
$18,795,517
$2.38
2017
$78,036,586
$23,678,798
$2.92
2018
$81,515,994
$25,452,185
$3.10
2019
$87,192,887
$20,513,674
$2.22
2020
$85,690,462
$11,704,733
$1.18
FONAR introduced the world's first MRI scanner in 1980. At first, the Company grew solely by selling and servicing its ever-innovative line of MRI products. But eventually, in response to years of struggling with financial uncertainties that accompanied an erratic MRI equipment sales market, FONAR, in 1997, expanded by forming its diagnostic imaging management subsidiary, Health Management Company of America (HMCA), to provide the Company with a steady and reliable source of revenue. Because FONAR had by that time been working with hundreds of customers for nearly 20 years, most of them independent MRI business owners, we were very familiar with how they managed their businesses – warts and all. That experience made our expansion into the diagnostic imaging management business a natural one. By observing which of their methods, practices and strategies worked and which ones didn't, we were ideally positioned to develop a business plan that would eventually result in HMCA becoming the company's leading source of revenue and profit.
My son, Timothy R. Damadian, who is currently President and CEO of FONAR, joined FONAR in 2010. At that time, scan volume at HMCA-managed facilities was 29,000 (calendar 2009) and Total Revenues-Net was $31.8 million (fiscal 2010). Tim immediately assembled a management team comprised of individuals he had previously worked with for many years who had proven to be trustworthy and successful in managing and growing MRI scanning center businesses. Together they launched a growth strategy based upon the ever-growing appeal among patients and their physicians of our FONAR UPRIGHT® Multi-Position™ MRI, also known as the STAND-UP® MRI.
The growth strategy was and continues to be three-pronged: 1) Grow by increasing scan volume at existing sites by applying proven marketing techniques and providing outstanding service to patients and their physicians. 2) Acquire or establish de novo sites in locations that would enhance or expand our existing networks. We find such locations by conducting thorough demographic studies, identifying the primary major medical insurance carriers in the region, and evaluating the competitive landscape. 3) Install additional MRI scanners at sites in need of reducing patient backlog and/or sites that would benefit from expanded MRI services to their referral bases. Vertical growth, by adding a second or even a third MRI to a busy site, is very cost effective. Aside from the expense of the added equipment, the only other major costs are those associated with the additional space needed to house the equipment and a minimal increase in staff to accommodate the increase in patient volume.
The Effect of COVID-19 on Fiscal 2020
For the first eight months of fiscal 2020, total scan volume at HMCA-managed sites was 5% higher than it was in the first eight months of fiscal 2019. Then in March 2020, the COVID-19 pandemic reached our shores. Deemed essential businesses, HMCA-managed sites were permitted to remain open to serve patients in need of outpatient medical care. For the safety of employees and patients, we immediately implemented sanitary procedures at FONAR headquarters and at all HMCA-managed sites and acquired additional Personal Protective Equipment (PPE) needed for protection from the virus. Where possible, headquarter employees worked from their homes.
Patient volume at medical offices in regions where HMCA sites are located dropped precipitously. Since medical offices are the sole source of referrals to diagnostic imaging centers, scan volumes at the HMCA-managed sites plummeted as well. In fact, total MRI scan volume at HMCA-managed sites in April of 2020 was less than half of what it had been just a couple of months before. Management responded quickly, effectively and responsibly by shortening the sites' business hours and reducing staff by either cutting work hours or by furloughing where possible.
While the effects of COVID-19 were financially damaging to the Company in the third quarter, and even more so in the last quarter of fiscal 2020, we are both grateful and proud to have remained profitable throughout, posting Total Revenue-Net of $85.7 million in fiscal 2020, just 2% less than that of the prior year.
HMCA continues to recover. With scan volume steadily trending upwards since April of 2020, we have since posted profits in the first two quarters of fiscal 2021. As of December 31, 2020 we were at approximately 90% of our pre-COVID-19 scan volume. Today HMCA manages 39 MRI scanners: 25 in New York and 14 in Florida.
Recent HMCA Expansion
In spite of the delays caused by the pandemic, HMCA installed a second MRI scanner at the Ormond Beach, Florida site in October 2019; the first of what will be a two-MRI facility in Pembroke Pines, Florida in July 2020; a second MRI in Islandia, New York in October 2020; and a second MRI in White Plains, New York in January 2021. In March 2021, we acquired a Stand-Up MRI scanning center in Yonkers, New York.
FONAR, the Inventor of MR Scanning™, introduced the world's first commercial MRI in 1980. We went public in 1981 and have installed over 400 MRIs all over the world. Located in Melville, New York, we continue to manufacture, sell, service, and upgrade FONAR scanners.
Our signature product is the FONAR UPRIGHT® Multi-Position™ MRI (also known as the STAND-UP® MRI). The success of HMCA is largely attributable to this unique product for two primary reasons:
First, it is the only whole-body MRI that performs Position Imaging™ (pMRI™), which means it scans patients in numerous weight-bearing positions, i.e. standing, sitting, in flexion and extension, as well as the conventional lie-down position. The UPRIGHT® MRI has detected problems that were underestimated or missed entirely on "weightless-only" MRI scanners, particularly scans of the spine. With its ability to "see it all," the UPRIGHT® MRI provides referring physicians the means to achieve better outcomes for their patients. Most MRI studies are of the spine, and it is widely reported that about 80% of adults experience low back pain at some point in their lifetimes. This explains why the UPRIGHT® MRI has gained traction in the medical community.
Second, a significant portion of the patient population seeks to avoid or flatly refuses to have their MRI exams in a claustrophobia-inducing "tunnel" or "tube" MRI, which is typical of most MRIs. The comfort and openness of the UPRIGHT® MRI make it the Patient-Friendly™ MRI. Our scanner is very appealing to patients and also to referring physicians who want to accommodate patients of theirs who are fearful of or cannot tolerate confining, conventional MRI scanners. To their relief, the UPRIGHT® MRI allows most patients to be scanned while sitting and watching a wide-screen TV.
FONAR users have, for years, benefitted substantially from these highly-prized features and, since the design of the UPRIGHT® MRI remains patent-protected by FONAR, we will continue to enjoy this competitive advantage in the future.
FONAR's Ongoing Research
MRI has brought a new dimension to MEDICAL TREATMENT, the power to VISUALIZE ANATOMIC DETAIL in the body's VITAL SOFT TISSUES (brain, heart, kidney, liver, spleen, lungs, pancreas, intestines) plus MRI's new power to non-invasively QUANTIFY (e.g. measure T1, T2, diffusion, chemical spectra) the response of these VITAL TISSUES to treatment.
Regarding our research efforts, over the past few years we have been making cines (movies) of the cerebrospinal fluid (CSF) as it flows up and down the neck and around the brain. Thanks to the UPRIGHT® MRI's ability to scan patients in weight-bearing positions as well as in the recumbent, non-weight-bearing position, we are finding significant postural differences in CSF flow. These differences may provide clues which will enable physicians to find solutions to a variety of unsolved medical problems and the power to quantify the degree to which the impaired CSF flow responsible for the patients' symptoms has been rectified by the patient's surgical and non-surgical CCJ (Cranio-Cervical Junction) treatment. Currently, our research is focused on quantifying CSF flow and the velocity at which it navigates through the neck and head. We've been able to use this quantitative CSF data collected from asymptomatic patients to identify the degree to which CSF flow impairment is responsible for the patient's symptoms and the degree to which the patient's surgical or non-surgical CCJ treatment has restored the patient's critical brain and central nervous symptom's physiology to normal.
This important research of the imaging and quantifying of cerebrospinal fluid (CSF) flow as it circulates from the brain, down the spine and throughout the brain, I believe, is research that will lead to a new understanding of the role of CSF physiology for the neurodegenerative diseases Multiple Sclerosis, Alzheimer's, Parkinson's, Amyotrophic Lateral Sclerosis (ALS) and childhood autism. In Fiscal 2021, the Company will continue with this valuable research made possible by the introduction of Fonar's UPRIGHT® MRI imaging technology.
50th Birthday of MRI
March 9, 2021 was a very special day for me as well as for FONAR employees, HMCA employees, FONAR users, FONAR stockholders, Nasdaq, family and friends, as it has been 50 years since my discovery of MRI was published in the scientific journal Science on March 19, 1971. In celebration, FONAR had the honor of ringing the Nasdaq closing bell on March 9, 2021. Due to COVID-19, it was a virtual ceremony that could be viewed via a Nasdaq-provided live-stream link. Excerpts from FONAR's March 9, 2021 press release follow:
FONAR To Ring The Nasdaq Stock Market Closing Bell, As It
Celebrates 50th Birthday of MRI
MELVILLE, NEW YORK, March 9, 2021 - FONAR Corporation (NASDAQ-FONR), The Inventor of MR Scanning™, will ring the Nasdaq Stock Market Closing Bell on March 9, 2021. Nasdaq and FONAR selected this day as it is 50 years since the discovery of MRI by Raymond V. Damadian, M.D., FONAR's founder and chairman, was published in the widely-read, peer-reviewed scientific journal Science on March 19, 1971.*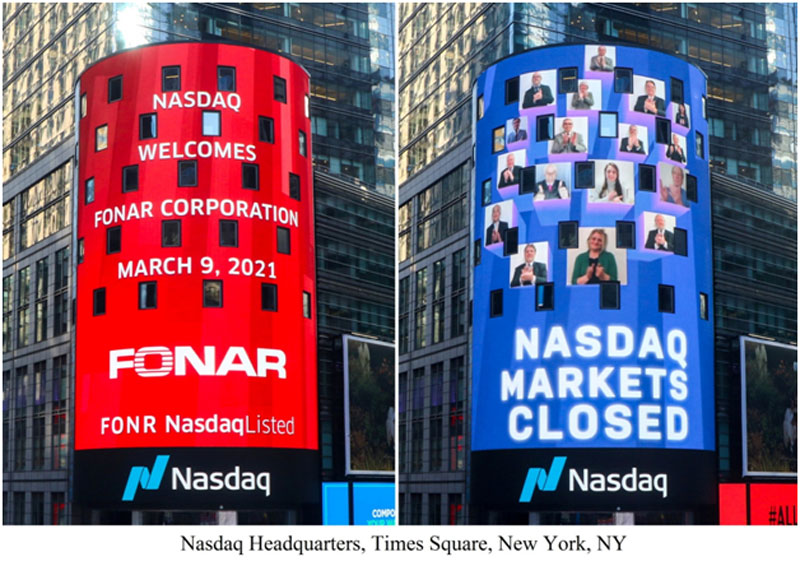 Dr. Damadian said, "I got my first idea for MRI in 1969, and in 1970 made the discovery that is the basis for the making of every MRI image ever produced and the foundation of the MRI industry. This discovery is that there is a marked difference in the relaxation time of the NMR (MRI) signals between normal and cancerous tissues of the same type, as well as between different types of normal tissues. This discovery, published in the peer-reviewed journal 'Science,' marked the beginning of the MRI industry."
The discovery resulted in the generation of the pronounced pixel contrast that was deficient in traditional medical imaging technology (x-ray, CT, 4%) and was needed for adequate visualization of the body's vital organs and assessment of their well-being. The pixel contrast provided by MRI imaging was raised to 131%. As reported in edubilla.com: "But without this discovery of the profound sensitivity of the relaxation time to different tissue types and malignant tissue THERE WOULD BE NO PICTURE AT ALL."
Prior to this 1971 article in the journal Science, there was no realization that existing NMR test tube technology could be transformed into a scanner of the live human body. Soon scientists around the world began researching the discovery.
Dr. Damadian's discovery, as reported in Science 1971, soon led to the first patent in MRI.** In 1977, with his two post doctorate students, Lawrence Minkoff, Ph.D., and Michael Goldsmith. Ph.D., he went on to make the world's first MRI scanner.
Dr. Minkoff recalled the preparations for the world's first MRI scan. He said: "Dr. Damadian agreed to be the first to go into a huge magnetic field and have resonating radio frequencies directed at his body and specifically the area around his heart. This was a risk as no one in the world to our knowledge had done this before. So the first time, a cardiologist was on hand to help if there was a problem. Unfortunately, the scan did not work. It was later determined that the coil needed further development. So, finally on the evening of July 2, we were able to get an NMR (MRI) signal from my chest. With this successful achievement we were then able to proceed and make the world's first MRI image of a live human being."
Dr. Damadian began FONAR, the world's first dedicated MRI Company, in 1978, and the Company installed the world's first commercial MRI in 1980. In 1981 FONAR became a NASDAQ-listed company. The Company, today, is at the Nasdaq Stock Market Closing Bell Ceremony delightedly celebrating the 50th anniversary of the birth of MRI.
* R. Damadian, "Tumor Detection by Nuclear Magnetic Resonance,"Science, Volume 171, pp.1151-1153. This paper was referenced by other Scientist-Authors in the field so frequently that it was recognized as a 'Citation Classic' by the Institute for Scientific Information, Philadelphia, PA, whose mission it is to monitor scientific citations

** U.S. Patent #3,789,832, "Apparatus and Method for Detecting Cancer in Tissue," (1974) that patented the relaxation differences and their use in medical scanning. It was acknowledged and enforced by the U.S. Supreme Court in 1997. There are currently more than 4,500 patents on MRI issued by the U.S. Patent Office.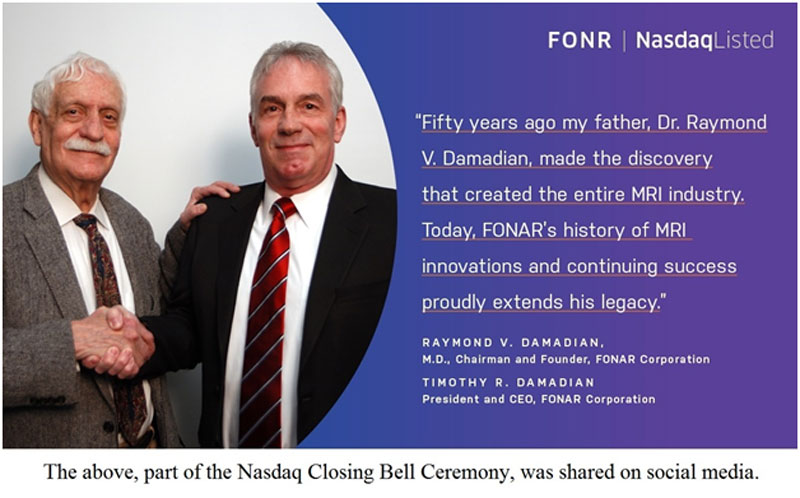 Our continuing success, even in the face of a world-wide pandemic, is a testament to FONAR technology and the skillful management of our diagnostic imaging management subsidiary, HMCA. I fully expect that FONAR will remain on the path of steady growth and profitability for years to come.
I am grateful to our stockholders, customers and employees for their loyal support. It's been 50 years since my discovery that makes MRI scanning possible, yet to this day MRI remains the premier diagnostic imaging modality. Considering we live in a time bursting with technological advancements, it is remarkable that over the course of the past five decades, no new technology has emerged in the field of medical imaging to surpass or even rival the effectiveness and ever-expanding utility of the MRI scanner. That's something we can all be proud of.
Sincerely,
Raymond V. Damadian
Chairman and Founder
FONAR Corporation